Tulasi oil, derived from the basil plant, is a highly regarded aromatic oil with therapeutic properties. The uses of Tulasi oil are numerous, including in aromatherapy and herbal medicine. Tulsi oil is appropriate for topical application in holistic health practices and helps alleviate stress, anxiety, respiratory issues, and mental fog.
The Essence of Tulasi Oil
Tulasi oil is a natural remedy and spiritual well-being oil that is made from the holy Indra Tulasi plant, also known as holy basil. It is revered in Ayurvedic medicine for its therapeutic properties, including its aromatherapy benefits, antibacterial and anti-inflammatory properties, and its use in aromatherapy for stress relief. Tulasi oil's spiritual significance also enhances meditation practices, providing a sense of tranquillity and connection to the divine. Its versatile nature-based properties make it a valuable asset in aromatherapy, skincare, and spiritual rituals.
Tulasi oil is a highly regarded aromatherapy tool known for its therapeutic benefits. Its relaxing qualities and alluring aroma aid in reducing tension and anxiety while fostering mental health. Tulasi oil also has natural anti-inflammatory and antiseptic properties, making it beneficial in skincare for soothing various skin conditions. This is one of the uses of Tulasi oil. It embodies holistic healing and enhances physical and emotional wellness through its fragrant charm and profound effects.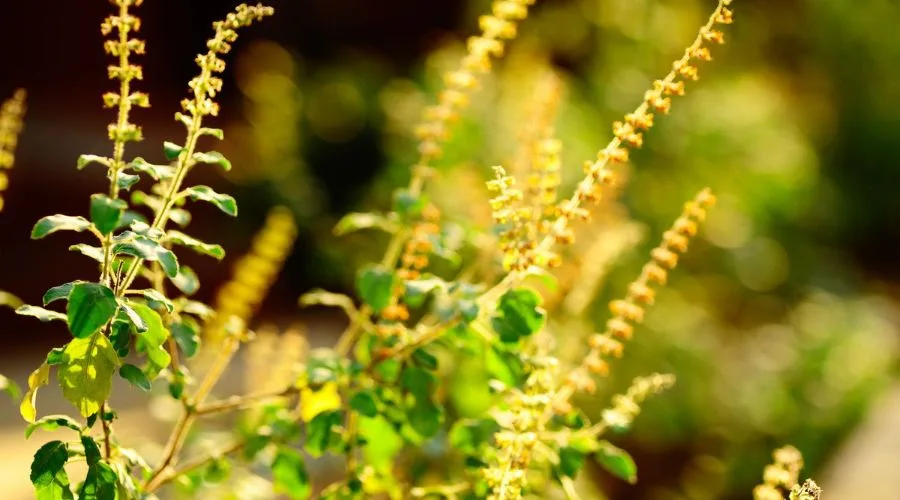 Tulasi oil, a natural skincare ingredient derived from the basil plant, promotes moisturization, rejuvenation, and protection. This is one of the uses of Tulasi oil. Its anti-inflammatory and antioxidant qualities help reduce wrinkles and relieve skin irritations. Tulasi oil offers a holistic approach to skincare, enhancing and nourishing the skin's natural beauty.
Tulasi oil is a versatile hair care product known for its nutrient-rich and antioxidant-rich properties. Tulasi oil nourishes the scalp and hair follicles, promoting stronger, shinier locks. It helps combat dandruff and scalp dryness. Tulasi oil is a key ingredient in dandruff-fighting shampoos and conditioners due to its anti-inflammatory properties.
Tulasi oil is a vital component of holistic healing, promoting physical and mental well-being through its calming and stress-relieving properties, making it ideal for meditation and relaxation. The uses of Tulasi oil in respiratory health care and various skin conditions are very adaptable.
Tulasi oil, derived from the holy basil plant, is a cherished secret with numerous benefits. Tulasi oil is a popular choice for skincare because of its antibacterial and anti-inflammatory characteristics, which give a holistic approach to health and beauty. It is also well-known for its mental tranquility, stress relief, and respiratory health advantages.
Tulasi oil is a sacred element in rituals and spirituality, deeply connected to various cultural traditions. Its aromatic essence is used in religious ceremonies, promoting purity and sanctity. It is believed to purify the mind and soul, making it essential in meditation and prayer. In spirituality, Tulasi oil transcends physical applications, becoming a symbol of reverence and enhancing one's connection with the sacred.
Tulasi oil is potent and should be used with caution due to its potency. To avoid irritation or adverse reactions, dilute it with a carrier oil like coconut or almond oil before application. The general rule is to use a few drops per tablespoon of carrier oil. A patch test on a small area of skin is also essential to check for sensitivity or allergies. Proper precautions and dilutions are crucial for maximising the therapeutic properties of Tulasi oil and minimising potential risks.
Tulasi oil stands as a cherished natural remedy, enriching various facets of well-being. Its influence on health and radiance is undeniable, offering nourishment and rejuvenation for the skin. When it comes to hair care, this oil becomes a powerful ally, promoting strength, imparting lustre, and soothing the scalp.
Beyond its cosmetic benefits, Tulasi oil extends its reach into holistic healing, providing stress relief, supporting respiratory health, and fostering spiritual connection. The versatility and beauty of Tulasi oil make it a timeless remedy, and for those seeking its benefits, the option to "Buy Tulasi oil" stands as an accessible gateway to this holistic elixir.