Best Virgin Coconut Oil for Hair Care
Virgin coconut oil is a natural product that has been admired for generations for its beneficial effects on hair. This super oil is revered for its superiority in both the kitchen and the bathroom. This article will discuss the Best virgin coconut oil for restoring and maintaining your hair's health. Learn how the finest virgin coconut oil may improve the health of your hair and scalp and how it can stimulate new growth. 
Benefits of Using the Best Virgin Coconut Oil for Hair Care:
There are several advantages to using the highest quality virgin coconut oil on your hair. In the first place, it provides substantial nutrition, permeating the hair shaft to saturate it with moisture and fortifying each strand from the inside out. This natural oil is loaded with vitamins, minerals, and fatty acids that are good for your hair. It's great for dry, damaged hair since it helps hydrate and restore moisture, making the hair softer, smoother, and easier to maintain. The finest virgin coconut oil also aids in frizz control, bringing calm to wild hair while bringing out its natural shine. The scalp is nourished as well, creating a favorable setting for new hair to develop. When searching for the best virgin coconut oil, it's essential to consider factors such as quality, purity, and even the virgin coconut oil price in Kerala, where this precious oil is renowned for its exceptional quality. 
Why Choose the Best Virgin Coconut Oil for Hair Care?
From root to tip, the greatest virgin coconut oil provides intensive nourishment because of the abundance of critical components it contains. The oil's penetrating properties mean it may hydrate and strengthen strands from the inside out, protecting hair from breakage and improving its general health in the process. Considering the excellent quality and the affordable virgin coconut oil price in Kerala, incorporating this natural wonder into your hair care routine becomes even more enticing. If you use virgin coconut oil on a regular basis, you may restore your hair to a healthy and beautiful state. 
Extreme hydration and moisture, such as that supplied by the finest virgin coconut oil, may do wonders for dry, damaged hair. The oil's distinct molecular structure enables it to enter
the hair shaft with relative ease, carrying with it much-needed moisture and nutrients. Virgin coconut oil improves the texture and shine of hair by reestablishing its natural moisture balance. 
Keeping your hair from becoming unmanageable frizzy is a typical hair care dilemma. The finest virgin coconut oil Kerala has a smoothing effect on hair and reduces frizz naturally. It minimizes moisture loss and wear and tear on the hair by creating a smooth surface by coating the strands and closing the cuticles. The end effect is hair that is less frizzy, easier to handle, and more reflective. 
Maintaining strong, lustrous hair begins with a healthy scalp. The finest virgin coconut oil may aid in keeping the scalp clean and clear of infections thanks to its antibacterial and antifungal characteristics. It prevents damage to the scalp from dryness and irritation, making it more conducive to hair development. Massaging the scalp regularly with unrefined coconut oil has been shown to provide health benefits for the scalp and hair. 
Hair Growth and Thickness: 
Hair Thickness and development: The finest virgin coconut oil may be a helpful addition to your hair care regimen if you want to increase your hair's thickness and speed up its development. It contains lauric acid, which has been demonstrated to nourish hair follicles and promote hair growth. The oil also increases oxygen and nutrition delivery to hair follicles through the scalp's blood supply. Virgin coconut oil has been shown to improve hair's strength, length, and thickness when used consistently.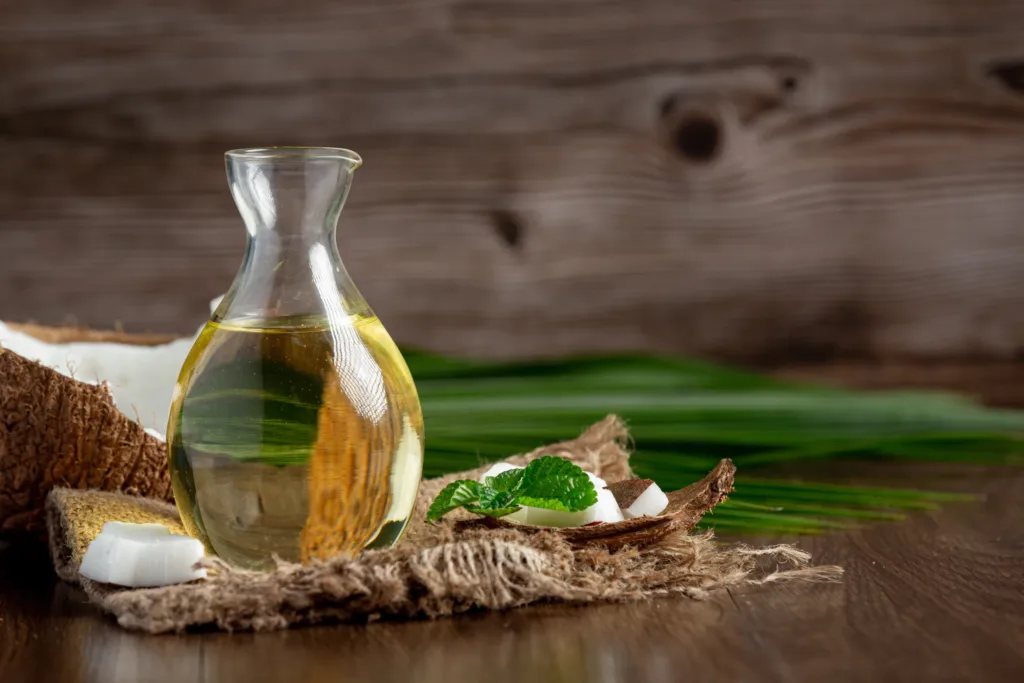 The Best virgin coconut oil may do wonders for your hair if you include it in your regular hair care regimen. This all-natural component does wonders for your hair and scalp, from giving intense hydration and nutrition to taming frizz and improving scalp health. To assure the best quality and purity, go for organic virgin coconut oil from well-known manufacturers. See your hair grow healthier, shinier, and more bright than ever before by embracing the magic of genuine coconut oil. Buy virgin coconut oil immediately to begin rejuvenating and restoring your locks. 
In conclusion, the availability of high-quality virgin coconut oil in Kerala at an affordable price makes it an ideal choice for nourishing and revitalizing your hair. With its numerous benefits and the added advantage of the reasonable virgin coconut oil price in Kerala, you can experience the wonders of this natural ingredient and achieve healthy, lustrous tresses.