Dried papaya is a powerhouse of nutrients. And it is one of the most common ingredients used in many dishes and the healthiest foods you can eat. It's sweet, salty, and tangy. But what exactly it is and why should we using it? In this article, we will discuss the benefits of dried papaya for your health and how it can help improve things like weight loss, appetite suppression, digestive issues, and more!
Beneficial Compounds in Dried Papaya:
Dried papaya contains beneficial compounds that support your body's health, including
Beta Carotene which is a powerful antioxidant that protects cells from the damage

Fibre that helps you feel full before eating more food

It has complex carbohydrates that help balance blood sugar levels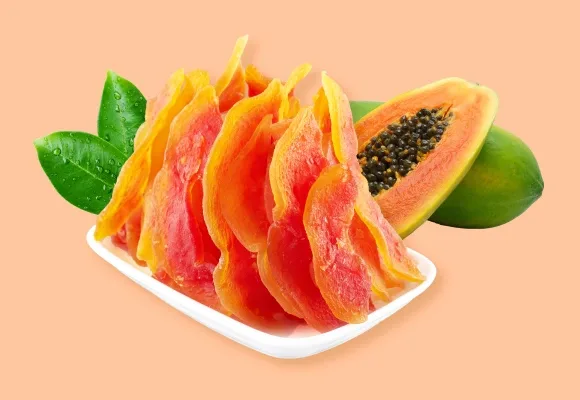 Delicious and loaded with nutrients:
This delicious fruit is loaded with nutrients like vitamins C and E, potassium and magnesium, which help keep your body running smoothly.
vitamin A & C which support healthy vision, skin and hair and help your body absorb iron and calcium.

Potassium is a mineral that helps regulate heart rate and blood pressure
Dried fruit has a very strong antioxidant effect on the body. The antioxidants in it protect the body from free-radical damage and help maintain healthy cells. They help you fight off disease and keep your immune system strong.
Have anticancer properties:
The dried papaya contains antioxidant properties that help fight free radicals that damage cells in the body. These antioxidants may help protect against cancer by reducing the chances of DNA damage and cell death.
May improve heart health:
Dried papaya is a great option for anyone who wants to improve their heart health. It contains several nutrients, including fibre, vitamin C, and folate. These nutrients help your body absorb the other compounds in dried papaya, which can help lower LDL cholesterol levels and improve blood flow through arteries
May fight inflammation:
Dried papaya is a natural remedy for inflammation. It contains enzymes that help to break down protein deposits in your body, as well as vitamin C and vitamin B6, which are both crucial to good health. This makes dried papaya an excellent choice if you have inflammatory issues like eczema or psoriasis.
Reduces Facial Hair:
Dried papaya is a fantastic way to reduce facial hair. It contains papain, which can draw out the hair follicles from your skin and allow them to naturally fall out. You can use this method on your face or anywhere else you need to get rid of unwanted hair.
May improve digestion:
Dried papaya is an excellent source of fibre and may help ease digestive discomfort by preventing constipation and diarrhoea. It contains enzymes that help break down food, so it can help you digest your food more easily.
Protects against skin damage:
Dried Papaya is a powerful antioxidant that helps to keep your skin looking younger and healthier. It's also an anti-inflammatory and improves skin tone, which can help reduce the appearance of wrinkles.
CONCLUSION:
The benefits of dried papaya are numerous. They are really good for your health, especially for your digestive system. It contains essential nutrients such as carbohydrates that you need for energy, vitamins and minerals that keep you energized throughout the day. Dried papaya is worth a try, as it offers numerous health benefits and has significantly fewer calories than fresh papaya. So try buying some from our store.