Jack Fruit Chips Online
Jackfruit Chips 200g  are made from Fully mature and unripe jack fruit.
It is a very popular snack in Kerala. This Crispy, crunchy yummy snack is tasty and sweet. It can keep it on the shelf for more than a month. These chips are made with pure coconut oil from Kerala. These chips are deep-fried chips So it very crunchy and crispy
FROM MALABAR CHIPS, KUMILY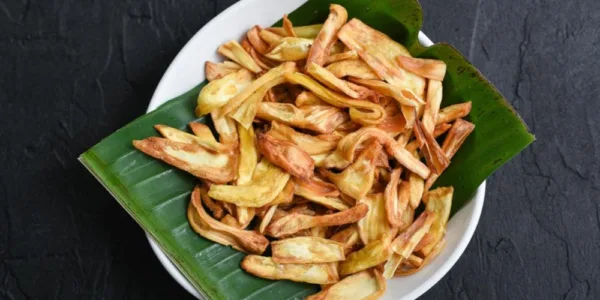 Jackfruit chips are one of the most popular snacks in Kerala, and for good reason. Made from fresh, ripe jackfruit, these chips are crispy, flavorful, and full of nutrition. At Kerala Spices Online, we offer premium quality jackfruit chips that are carefully prepared using traditional methods to retain their authentic taste and texture.
If you're a fan of jackfruit chips, you've come to the right place. Our online store offers a wide range of jackfruit chips, including the classic salted variety, as well as spicy and sweet options. We source our jackfruit from the best farms in Kerala to ensure that our customers get only the freshest and highest quality chips.
So why wait? Order your favorite jackfruit chips from our online store and indulge in the delicious flavors of Kerala. Whether you're looking for a quick snack to munch on or a healthy alternative to potato chips, our jackfruit chips are the perfect choice.
Kerala Spices Online is your perfect stop to buy the quality-packed Kerala Jackfruit Chips online.
Click to buy best spices in kerala